Remuneration in the finance industry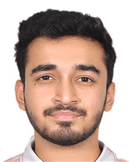 This article written by Akshit Gupta (ESSEC Business School, Master in Management, 2022) analyzes the remuneration in the finance industry.
Introduction
"Remuneration is a compensation that an individual or an employee receives for the work or service they have provided to the organization." A good remuneration is a primary tool used by almost every company to attract well-qualified professionals and make them perform their duties efficiently and effectively. A satisfactory remuneration impacts both work performance and job satisfaction of an employee, thereby upsurging their morale and motivating them to work even harder. Over the years, many studies have shown a direct relationship between employee contentment and the respective compensation they are provided with. The remuneration employee gets may not only be in the form of cash-in-hand but also in the form of other incentives based on employee stock ownership, commissions, bonuses, etc. Apart from the monetary incentives, employees also look forward to other intangible rewards in the form of work-life balance, personal development, company culture, and responsibilities allocated to them.
Businesses in the finance industry
The Financial services industry encompasses a broad list of businesses ranging from insurance firms, stock brokerage firms, investment funds, investment banks to accounting companies where the pay-scale varies from one business category to another. Amongst all the businesses, Investment Banking, Retail/Commercial Banking, Stock Brokerage, and Investment Funds continue to dominate the industry.
Investment banking
Investment banks are intermediaries that help companies to carry out complex financial transactions including Mergers and acquisitions, IPOs, restructuring, etc. Some of the biggest names in investment banking include J.P. Morgan, Goldman Sachs, Citi, and Barclays, who hire great minds from all across the world. The kind of jobs that continue to attract students to this domain includes an M&A Analyst, a Financial Advisor, an Underwriter, etc. Given below is a table showing the average remuneration received by analysts at some of the top investment banks operating in London.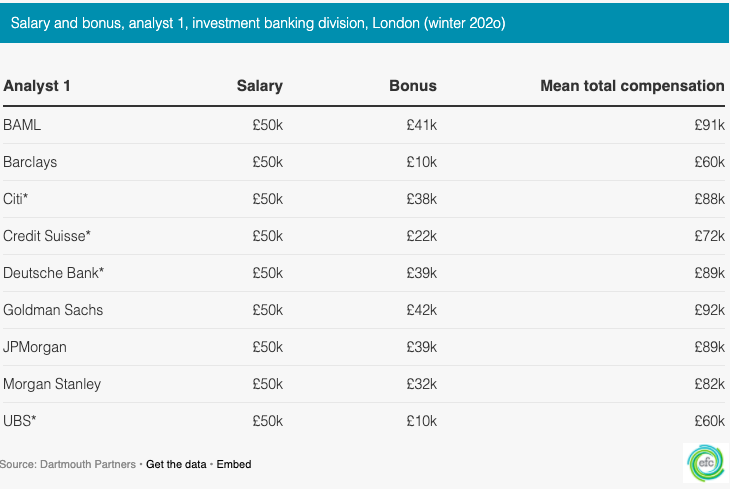 Based on the above report by Dartmouth Partners, the average pay scale for an entry-level Analyst amounts to £50,000 in base salary and £30,000 in bonuses with a median bonus pay-out of £38,000. The above pay-scales do sound very lucrative and appealing but as it is said that money doesn't come easy, the working hours in a typical banking job exceed 80 hours per week with late-night shifts and working weekends.
Brokerage firms
Stock Brokerage firms continue to be another one of the most attractive business domains in the finance industry. A stock brokerage firm is a financial institution that advises and helps in buying and selling of financial assets including equity stocks, commodities, forex, etc. Some of the biggest names in this business domain include Fidelity Investments, Charles Schwab, Wells Fargo Advisors, TD Ameritrade, etc. Given below is a table by Glassdoor, a leading recruitment site, showing the average base salary for an entry-level stockbroker in USA. Apart from the base salary, the broker is also entitled to bonuses and commissions, the percentage of which varies across different companies.

Investment management firm
An investment management or asset management firm is a financial institution that pools in money from big investors and invests in various asset classes ranging from equity, bonds, real estate, commodities, etc. Some of the biggest asset management firms in the world include Blackrock, The Vanguard Group, UBS Group, and Capital Group with Assets under management (AUM) as high as $6 trillion. The most popular jobs in this domain include, a hedge fund Analyst, an  investment analyst, and a research analyst.
Given below is a table showing the average salary paid by Blackrock, the largest asset manager, to its employees working at various positions.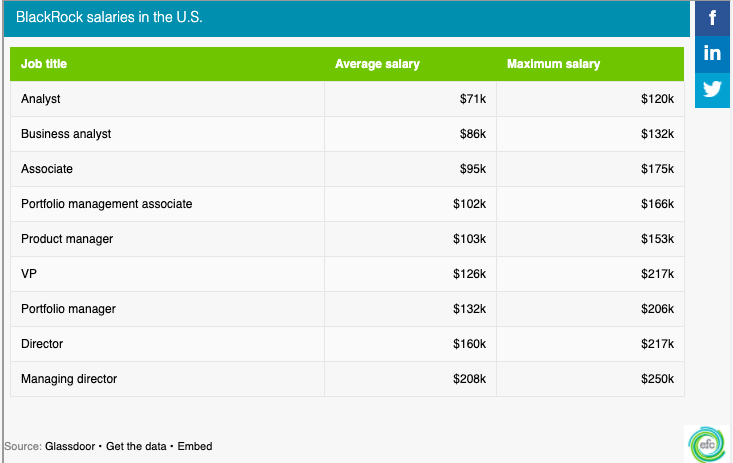 Recent trends in the industry
Financial services are going through a digital transformation phase due to changing consumer demands and demographics. With the evolution of FinTech and blockchain technology, financial companies and retail banks have been able to serve their clients in a better way with a unique customer experience that includes automated chatbots, spending trackers, seamless credit facilities, etc. Since technology is gaining a tight grip on this industry, new career paths have opened for the upcoming aspirations including jobs for technology enthusiasts, risk analysts, and software experts. The role of a data scientist has been increasing in the financial context due to data being the fuel of this industry. The ever-growing datasets provide key information useful in managing risks, preventing frauds, building customer relations, and algorithms to ease the process. With increasing focus on machine learning, the jobs for data scientists would keep on rising to serve the purpose of building new algorithms and crunching even bigger datasets.
Related posts on the SimTrade blog
All job descriptions on the SimTrade blog
▶ Rodolphe CHOLLAT-NAMY Credit analyst
▶ Akshit GUPTA Option Trader – Job Description
▶ Louis DETALLE A quick review of the DCM (Debt Capital Market) analyst's job…
About the author
Article written in October 2020 by Akshit GUPTA (ESSEC Business School, Grande Ecole – Master in Management, 2019-2022).