Key participants in the Private Equity ecosystem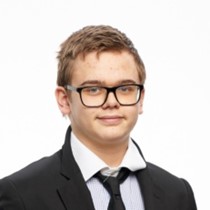 In this article, Matisse FOY (ESSEC Business School, Bachelor in Business Administration (BBA), 2019-2023) explains who the key participants in Private Equity (PE) are, and what are their role in the PE ecosystem.
Private Equity is an increasingly important model of financing for companies at different scales. Whether you're simply interested in the subject or want to find a professional experience, here is a list of the main participants in the PE ecosystem and their function.
Key participants in the Private Equity ecosystem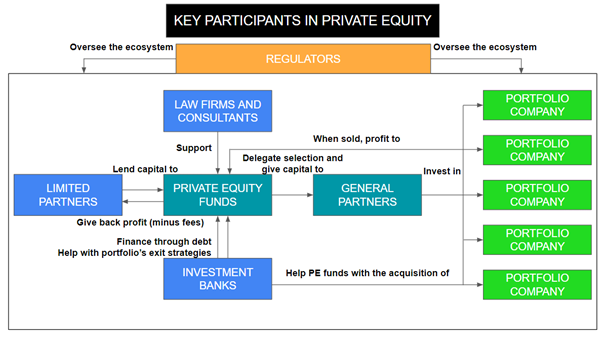 Source: production by the author
A glossary of the participants
Private Equity funds
PE funds are the central actors in the private equity ecosystem, pooling capital from various sources (mainly from Limited Partners and Investment Banks) and invest this money in private companies, meaning companies whose shares cannot be freely bought and sold on the stock market.
The employees of PE funds are responsible for sourcing, evaluating, and managing investments in "Portfolio Companies".
Their objective is to enhance the performance of those Portfolio Companies. By doing so, they aim to sell these firms later and generate profit. This profit is primarily derived from the investment capital provided by their investors, from which they take a percentage as their fee.
General Partners (GPs)
These are the managers of the PE fund who make the investment decisions. They have a fiduciary duty to act in the best interest of the LPs.
GPs are typically compensated through a management fee, which is a fixed annual fee for the fund's operation, and a performance fee (also known as "carry"), which is a percentage of the profits of the fund.
Limited Partners (LP)
Limited Partners are the investors in a PE fund. They include institutional investors like pension funds, university endowments (like Harvard University endowment), insurance companies (e.g., AXA, Allianz), and sovereign wealth funds, as well as high net worth individuals.
Limited Partners provide the capital that the PE funds invest and expect a return on their investment.
Portfolio Companies
Portfolio Companies are the companies in which PE funds invest. They are often in need of capital for growth, restructuring, or as part of a strategy to transition the company from public to private.
The goal of PE funds is to take a share in these companies, improve their performance and sell them for a profit.
Investment Banks
Investment Banks often play a crucial role in the PE ecosystem, especially with regards to the acquisition and sale of portfolio companies by PE funds. They can help PE funds identify potential investment opportunities, facilitate transactions, and provide financing by leveraging Limited Partners' equity. Moreover, they can help portfolio companies go public when they are sold.
Law Firms and Consultants
These professional service providers support PE funds throughout the investment process:
Law firms help with legal aspects of transactions, including drafting and reviewing contracts, to ensure compliance with relevant laws and regulations, and advising on the structure of deals to minimize legal risks and tax liabilities.
Consultants, on the other hand, assist with due diligence and the development of strategies for improving the performance of portfolio companies. They might also be delegated the sourcing and contact with portfolio companies by PE funds.
Regulators
Regulators oversee and govern the operations of PE funds. They aim to protect the interests of investors and the integrity of the financial markets, in order for the local environment to be as attractive to invest in as possible.
Why should I be interested in this post?
Private Equity is a wide ecosystem. Knowing about its different participants is very important when deciding to work in one of them, in order to understand their importance (who knows, maybe you will be asked questions about these actors will be asked to you in your next interview).
Related posts on the SimTrade blog
▶ Louis DETALLE A quick review of the Venture Capitalist's job…
▶ Louis DETALLE A quick presentation of the Private Equity field…
▶ Anna BARBERO Career in Finance
Useful resources
The Financial Times Private Equity
Wall Street Journal Private Equity
Coursera's MOOC Private Equity and Venture Capital
About the author
The article was written in May 2023 by Matisse FOY (ESSEC Business School, Bachelor in Business Administration (BBA), 2019-2023).