Who will become London's heir as Europe's main financial center in the wake of Brexit?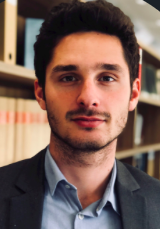 In this article, Alexandre VERLET (ESSEC Business School, Master in Management, 2017-2021) explores the Brexit's consequences on the City's monopoly over European finance, and which capital could possibly claim the throne.
A historic perspective on the City's dominance
To determine whether Brexit will cause London's fall as Europe's main financial center, we shall examine if the causes of London's rise might be undermined by its isolation from the single market. In 1973, Charles Kindleberger, an economic historian considered that London would not make it as Europe's finance capital, saying that "Sterling is too weak, and British savings too little." Obviously, he was wrong, since London concentrates a third of all European Union capital markets activity and 90% of euro-denominated derivatives clearing. This shows how London's unquestioned position as the hypercentre of European finance is actually pretty recent, and that it is definitely not immutable, especially since assets move fast. The key element of London's transformation is the Big Bang, the sudden and massive deregulation of financial markets that resulted from an agreement between Thatcher and the London Stock Exchange. But before that, the City and its iconic banks such as HSBC played a major role in the emergence of the Eurodollars market, making London a key partner for US banks' European activities. When financial markets started their meteoric expansion in the 1980's, London was ready to take advantage of it. Adding to that, the city had managed to build long term advantages such as a very favorable regulation through unquestioned political support from both Tories and Labor, a top-notch financial and legal system, and the highest concentration of highly qualified workforce you could find in Europe. It goes without saying that London's success is first and foremost to have managed to become the financial capital of the economic heavyweight that Europe is. London is more of an investment heaven that any other European capital thanks to the British government's unquestioned support but belonging to the EU was a required to be the EU's financial hub.
The financial consequences of Brexit so far
Nevertheless, the Brexit is a slow and rather improvised process, and European financial hubs are interdependent, so it was in all parties' interest that London did not collapse following the Brexit announcement. In the wake of Covid-19, the European Commission allowed European firms to keep using London's clearinghouses as they currently do until 2022. The shift is happening slowly, and it is difficult to predict the long-term consequences of Brexit. Nevertheless, EU rules state that some trades such as euro-denominated derivatives, must be executed on an EU trading venue, so it is unlikely that London will keep its European competitors at distance for long. Soon after the Brexit was officialized, firms had already shifted about 7,500 staff and more than $1.6 trillion of assets to the EU, around 15% of US banks' assets. However, while European financial centers have apparently benefited from Brexit, the US has by far been the main beneficiary of the new trading landscape. The direct regulatory consequence of Brexit is the loss of passporting rights, so the rights to trade are dependent upon equivalence decision made by the EU Commission. The City of London currently only has an equivalence arrangement in two areas of financial services, but the US have 22 arrangements. So, New York and Chicago have been executing many of the trades that London could not do anymore, as European financial centers who have passporting rights cannot rival with American cities' capital markets. That is why Martin Heneghan and Sarah Hall (LSE) consider that so far, Brexit created a negative-sum game for European finance. What would make the EU's hubs much more attractive is the capital markets union, which has been discussed for years with no progress so far. If that were to happen, European financial centers would finally take over most of London's financial activity resulting from European economies, and the strength of a unified European capital market would prevent New York and Chicago from being the main beneficiaries of Brexit.
And the winner is…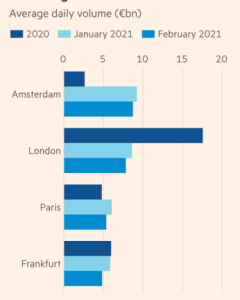 What is happening so far is a decentralization of financial activities, each capital trying to emphasize their advantages to benefit as much as they can from Brexit. Dublin and Luxembourg's fund-management hubs made it the priority destination for major, insurers, Amsterdam has attracted trading firms with its fast fiber network, and Paris and Frankfurt are battling to become the main hub of Euro clearing's $75 trillion dollars market. But unlike what is often heard in the French media, nothing suggests that Paris or Frankfurt will be the financial sector's obvious choice, quite the opposite actually: the competition is tight, and each city has its own advantages to offer. The focus on those two cities is due to the fact that both aggressively campaigned to become London's heir, and their economic weight and political strength are long-term advantages that few other cities can rival with. Nevertheless, nothing indicates so far that Dublin, Amsterdam or Luxembourg are being left behind. Amsterdam is actually the winner when it comes to trading activities, as shown on the graph below (source: Financial Times). The low corporate tax and fintech activity of Dublin and the massive investment funds located in Luxembourg are other advantages that could sustain a decentralized finance system in Europe, therefore denying Paris or Frankfurt from taking it all.
Overview of the jobs' redistribution: an opportunity for ESSEC finance students?
Although it will not be clear which city will have benefited most from the Brexit before 2030, you might be interested in checking the current trends of the major banks and investment firms where ESSEC students seek employment. Here's what the think tank New Financial reported as of late 2020. In total, 440 financial services firms moved their staff due to Brexit, 135 firms choosing Dublin, 102 firms choosing Paris, 93 for Luxembourg, 62 for Frankfurt, and 48 for Amsterdam.
Bank of America is moving a significant part of its markets business to Paris, more than 400 people, and part of its banking business to Dublin. Barclays' chose Dublin also and moved 250 people there. Blackrock is making Amsterdam its EU hub, but it also has an office for alternative investments (hedge funds and private equity) in Paris. The major French banks, BNP Paribas and SocGen, are obviously relocating to Paris, where their HQ are, and similarly Deutsche Bank is relocating to Frankfurt. Citigroup had planned to make Frankfurt its post-Brexit markets hub, but staff reportedly rebelled and lobbied to be moved to the French capital instead, because of culture, schools and proximity to London. Nevertheless, only 5% of the 6,000 people working in London for Citigroup were so far moved. JP Morgan initially expected to move most of its banking and markets businesses to Frankfurt after Brexit, but subsequently decided to move to Paris too. JP Morgan is however moving its asset management and wealth management businesses to Dublin and Luxembourg respectively. Credit Suisse planned to move its EU-focused investment bankers to Frankfurt post-Brexit, and its salespeople and traders to Madrid. Deutsche Bank's European headquarters will clearly be in Frankfurt, where the bank's global head office is located. Goldman Sachs is moving its investment banking and markets businesses to Frankfurt and Paris after Brexit. It is moving its asset management business to Dublin, but also opened new offices in Milan and Stockholm. In total, 500 GS jobs are leaving London. HSBC, which already used Paris as its European hub, is moving 1,000 people there. Morgan Stanley moved its investment banking and markets business to Frankfurt, and its asset management business to Dublin. Nomura and Standard Chartered chose Frankfurt, each moving around 100 people. The same goes for UBS, who decided to move 200 people to Frankfurt.
Although London remains the main financial center and employer in Europe, and while it is unsure if any city will replace it, London's monopoly will inevitably end, and many jobs will be created or redistributed in the 5 competing European cities. All in all, if you wish to work in finance at some point, keeping up on the post-Brexit evolution of financial centers in Europe is a must.
Related posts on the SimTrade blog
▶ Verlet A. Working in finance: trading
▶ Verlet A. Classic brain teasers from real-life interviews
About the author
This article was written in May 2021 by Alexandre VERLET (ESSEC Business School, Master in Management, 2019-2022).