A New Angle in M&A E-Commerce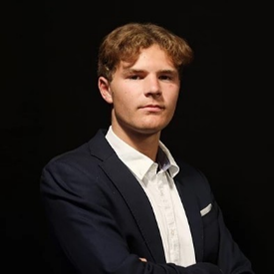 In this article, Antoine PERUSAT (ESSEC Business School, Global Bachelor of Business Administration, 2019-2023) shares his working experience as an M&A Analyst at a start-Up.
The Company
Last summer, I worked for two months in London at a company specializing in Venture Capital (VC) of digital assets in the e-commerce market. The company was headed by financial specialists coming from a range of backgrounds such as hedge funds and investment banks. Yet, there were also many on-board programmers with expertise in finance because of prior experience in areas such as algorithmic trading.
The company had recently acquired a hunting website for $1 million. After considering the slim margins attributed to affiliate schemes in which we provided this website's online traffic on a commission basis, we decided to start backlinking the website to a drop shipping website which provided arms accessories at 'cheap' prices. For instance, we would write posts on the website we acquired, and their active audience would read articles with titles such as "top 10 scopes for hunting", and 5 of those 10 would be linked to our drop shipping platform (GGD).
As explained above, the first item on display is one of the products in the drop shipping range. Whilst the other is a classic item on amazon in order to retain the image of a 'fair' appraiser of products.
Figure 1 – The website promoting its drop shipping range.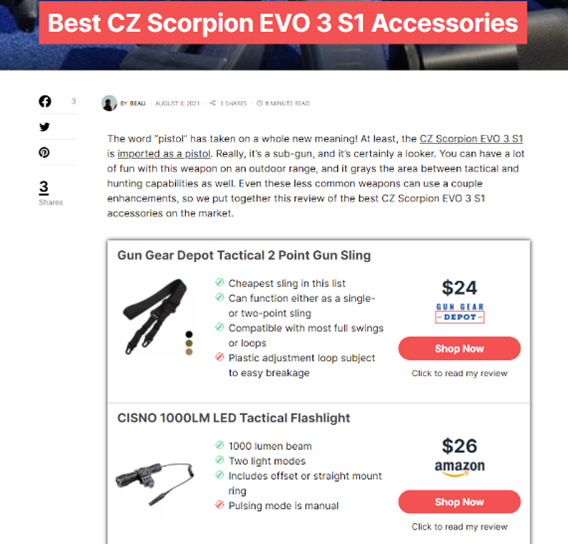 Source: The Company
My Job as an M&A Analyst
My main job within this startup was to do the financial appraisal and forecasting of the potential of this new drop shipping venture. Obviously the first hindrance was that there were barely any historic data (17 days of data) and prior budgets to leverage in the forecasting.
I shadowed a former PwC Vice President specialized in M&A and I learnt a lot from the 'learning by doing' process which is concurrently one of ESSEC's main values. The forecast and model provided the board of investors with an overview of our cash-generating projects.
All these figures are based on inputs that were placed into the forecasts.
Figure 2 – Forecasts based on 17-day data input values.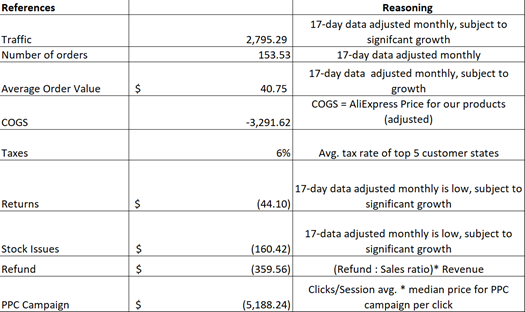 Source: GGD Forecasts
My work
The surrounding macro-variables are instrumental to the success of this project because these products are manufactured in China and shipped all the way to the U.S. I drew up a detailed PESTEL specific to arms and its accessories. I chose to make it as detailed as possible by also applying a base scenario, an upside scenario and a downside scenario to the P&Ls which would forecast the next 24 months. I used color coding which is a simple but instrumental and valuable method to present data in a tidy manner: assumptions in blue, hard coded input in blue, drivers in green and formulae in black. Other simplifiers include shortcuts and skills such as not using the mouse. The P&L's all had to follow the traditional accounting format so that any financial analyst could quickly skim over it without issue. Although it was mainly for the board of investors, they could check back to the detailed sheet if they had further questions.
Figure 3 – Detailed Forecasts (Inputs).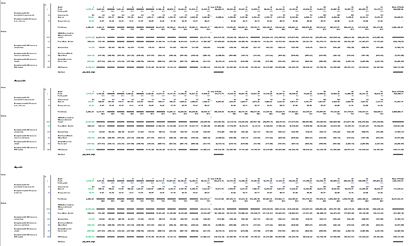 Source: GGD Forecasts
This kind of complexity is great if you are willing to put a few hours into studying the forecasts at great length.
Figure 4 – P&L (Upside).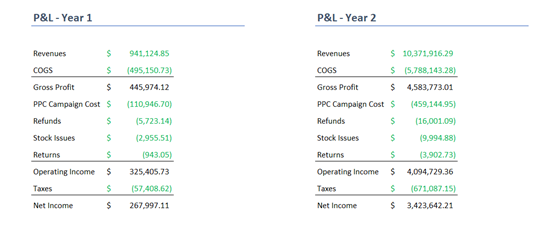 Source: GGD Forecasts
However, this is much faster and simpler. The element of choice is what the investor wants.
Side Projects
The start-up nature of the company meant that I had to complete other tasks than just forecasting. I conducted internal presentations of the company stock option policy to all new recruits. This taught me a lot about the value of equity in a world structured with salaries and bonuses.
Another side project was writing the prospectus of over 300 bicycle websites ranging from forums, magazines, and e-commerce platforms. This prospectus would be used to discover investment opportunities.
Research also formed a substantial part of my internship, and I undertook market research on our e-commerce competitors and their Key Performance Indicators (KPIs) like revenue figures and cash cow assets as well as their different investors and funding in initial rounds.
Here are a few KPIs on who the market leaders are in terms of e-commerce sellers and the materials sold as well as the overall revenue figures of the market.
Figure 5 – Overview of E-commerce competitors in the UK mattress market.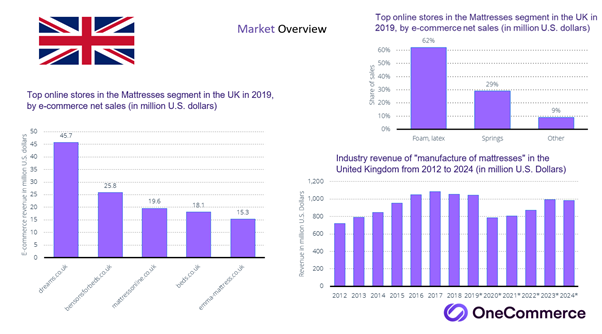 Source: Company – European Mattress Market Analysis
M&A valuation methods
On my first day during lunch, the Chief Executive Officer (CEO) of the company told me that fundamental analysis and traditional financial evaluation methods were all pretty much useless for our M&A operations. You can imagine this quite shocking to hear as an intern who came in to specialize in M&A, but I understood why he said this soon enough. Most of the prospectus portfolio we were involved with included internet platforms with little historical data (sometimes less than one year) which was of no use. So, from a financial aspect, we would usually just take a multiple of their Earnings Before Interest, Taxes, Depreciation, and Amortization (EBITDA) like X3 and sometimes X4.
To do the valuation work of the different prospects of interest, we would use Ahrefs (Search Engine Optimization audit software).
Figure 6. Ahrefs Audit Software.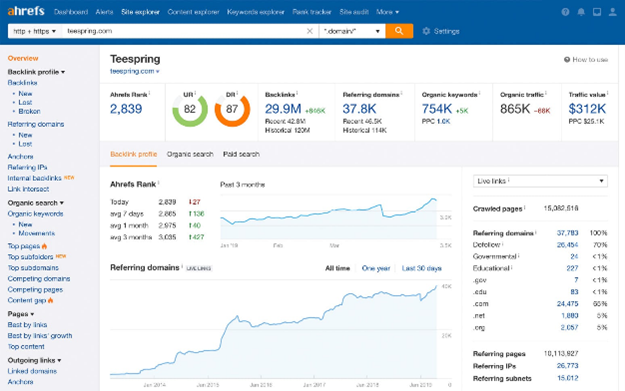 Source: https://www.blogdumoderateur.com/tools/ahrefs/
Not only is this a great tool in order to see how lucrative the acquisition is but its true value came into play after the acquisition. We could see general KPI's such as traffic value and portfolio website health so that we could apply the required SEO mechanisms to maximize the investment's value.
Final Message
My main message is that we mainly all come from academic institutions and families which force us down a structured and standardized route. For example, in finance, you can usually kick off your career in a range of routes like asset management, investment banking, trading, etc. The growth in new-age financial roles may incorporate more risk exposure in your career but they can provide a more stimulating and rewarding route!
Useful resources
WallStreetOasis (WSO) Financial Modeling Best Practices: Color Conventions
SPS commerce E-Commerce and the New Age of Retail
Le coin des Entrepreneurs Analyse PESTEL : définition, utilité et présentation des 6 composants (in French)
Related posts on the SimTrade blog
▶ All posts about professional experience in the SimTrade blog
▶ Raphaël ROERO DE CORTANZE In the shoes of a Corporate M&A Analyst
▶ Suyue MA Expeditionary experience in a Chinese investment banking boutique
▶ Anna BARBERO Career in finance
About the author
The article was written in October 2021 by Antoine PERUSAT (ESSEC Business School, Global Bachelor of Business Administration, 2019-2023).