MSCI ESG Ratings
In this article, Anant JAIN (ESSEC Business School, Grande Ecole – Master in Management, 2019-2022) talks about MSCI ESG Ratings.
Introduction
MSCI ESG Rating is a measure of a company's commitment to environmental, social, and governance (ESG) criteria and socially responsible investments (SRI). The MSCI ESG rating focuses on a company's exposure to financially relevant ESG risks. It applies a rule-based methodology to distinguish companies into industry leaders and laggards based on their exposure to ESG risks and their relative aptitude to manage those risks compared to their peers. The ESG Ratings are ranked from leader (AAA, AA) to average (A, BBB, BB) to laggard (B, CCC).
Rating companies on the basis of ESG dimensions enables socially conscious investors to screen potential investments according to their personal investment goals and values.
Environmental, social, and governance (ESG) criteria
ESG criteria constitute a framework that helps socially conscious investors screen potential investments that incorporate their personal values/agendas. The ESG criteria screen companies based on sound environmental practices, healthy social responsibilities and moral governance initiatives into their corporate policies and daily operations.
Socially responsible investing (SRI)
SRI is a type of investment that is categorized to be socially responsible due to the nature of the operation the company conducts. SRI is an investment that considers two aspects:1) social/environmental changes; 2) financial performance. In other words, socially responsible investors promote practices that they believe will lead to environmental benefits, consumer protection, racial/gender diversity, etc. Some socially responsible investors also do the opposite of investing by avoiding companies that negatively impact society, such as alcohol, tobacco, deforestation, pollution, etc.
How Do MSCI ESG Ratings Work?
Over the past decade, ESG investing has become more popular. In 2020, the US SIF: The Forum for Sustainable and Responsible Investment published that more than $17 trillion of professionally managed assets were held in sustainable assets (about one-third of all assets under management). 
Data providers have created various scoring criteria to rank and access potential ESG investments. Besides MSCI, other financial firms have curated their own proprietary ESG scoring models, including Standard & Poors (S&P), Blackrock, and Russell Investments. As a result, socially responsible investors can make more informed decisions when screening companies, ETFs, or mutual funds to include in their portfolios. 
Division of ESG into pillars
MSCI's ratings segregate ESG into its three pillars: environment, social, and governance. Figure 1 below shows the main components of each pillar and the key issues of each component.
MSCI evaluate thousands of data points across 35 ESG Key Issues that focus on the junction between a company's core business and the industry-specific issues that may create significant risks and opportunities for the company. All companies are automatically evaluated for Corporate Governance and Corporate Behavior. 
Figure 1. MSCI ESG classification.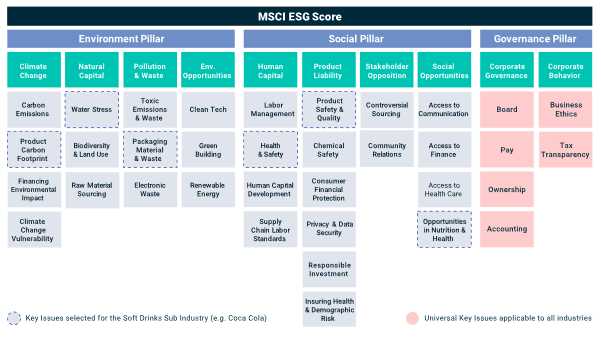 Source: MSCI.
For example, in Figure 1, we take the example of a soft drink sub-industry (say Coca-Cola). In this scenario, the key issues for the environment and social pillar are highlighted. All the key issues mentioned for the governance pillar will be automatically considered for this industry (or any other industry).
Calculation of MSCI scores
When calculating the ESG scores for a company, MSCI rates each key issue from zero to ten. Zero indicates virtually no exposure, and ten represents very exposure to a particular ESG risk or opportunity. 
MSCI also evaluates a company for its possible exposure to dubious business activities (e.g., gambling, weapons, tobacco, etc.). The data informing these scores are received from corporate filings, financial reports, and press releases. In addition to this, almost half of all data comes from hundreds of third-party media, academic institutions, non-government organizations (NGO), regulatory, and government sources. 
Scores based on a company's individual metrics are aggregated, weighted, and scaled to the relevant industry sector. Finally, an intuitive letter-based grade gets assigned to the company.
Assessment of MSCI scores
MSCI distinguishes its grades into three categories, mentioned below in descending order:
1. Leader (grade AAA & AA) – this grade indicates that a company is leading its relative industry. The company is managing the most significant ESG risks and opportunities.
2. Average (grade A, BBB & BB) – this grade indicates a company has an unexceptional or mixed track record of alleviating ESG risks and opportunities.
3. Laggard (grade B or CCC) – this grade indicates that a company is lagging in its industry because of the high exposure to ESG risks and failure to mitigate them.
Figure 2. MSCI ESG Score board.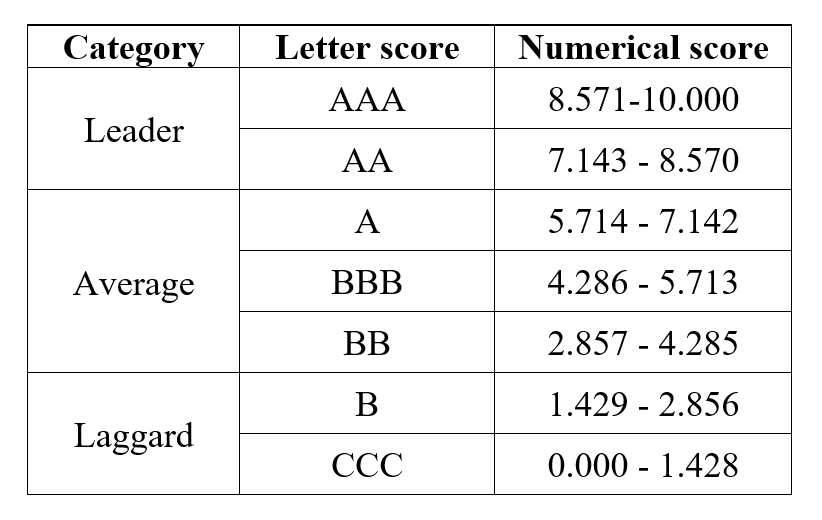 Source: MSCI.
Example of MSCI ESG rating
The following case below is a real-life example of the MSCI ESG rating of Tesla, an electric vehicle producer. The company attained an overall grade of "A", achieving the higher end of the "average" category.
When we look at the breakdown of this rating:
Tesla exceeds corporate governance and environmental risks, maintains a comparatively small carbon footprint, and utilizes green technologies.
The company scores an average grade for product quality and safety due to its past experiences of exploding batteries, undesirable crash test ratings, and accidents involving the car's "autopilot" feature.
Tesla's score is below-average for labor management practices. Tesla has been found to violate labor laws by blocking unionization. It has also repeatedly violated the National Labor Relations Act.
It is fascinating to note that the French auto parts maker, Valeo SA is the only company in the auto industry that earns a "leader" category grade from the MSCI ESG Ratings.
Useful resources
Related posts on the SimTrade blog
Jain A. Environmental, Social & Governance (ESG) Criteria
About the author
The article was written in July 2021 by Anant JAIN (ESSEC Business School, Grande Ecole – Master in Management, 2019-2022).