My Internship Experience at Deloitte
In this article, Anant JAIN (ESSEC Business School, Master in Management, 2019-2022) shares his experience as a strategist intern with Deloitte, and talks about the functioning of Deloitte and Robotics Process Automation (RPA).
About Deloitte
Founded in 1845, Deloitte is one of the biggest professional service providers in the world. Being one of the "Big Four" accounting firm, it provides services in audit & assurance, consulting, financial advisory, risk advisory, tax and legal advisory. A key aspect about Deloitte is that it does not sell any products but rather services. Hence, it's crucial for Deloitte to find the right mix of people to be hired for the job as explained below. Moreover, Deloitte likes to focus on automation of its processes because it increases the human productivity by removing repetitive tasks and allows its employees to focus more on crucial and important tasks. It doesn't decrease the human input but in fact, increases the human output.
The working process
The working process for a new mission for a client is decomposed in three steps.
Step 1: The engagement letter
When is a new client comes onboard, the first step is to sign the engagement letter which defines the scope of the project, the estimated input and billable hours for the project and its breakup, and finally the price quotation to the client. This is always followed by a negotiation between the client and Deloitte and upon mutual agreement, the engagement letter gets signed.
Step 2: On-boarding
When the client gets "onboarded" with Deloitte then Deloitte's employees who will be working with that particular client also get onboarded with the client's firm. For example, if Coca-Cola is a client at Deloitte, then the employees at Deloitte working with Coca-Cola will also have to get onboarded with Coca-Cola's employee platform .
Step 3: The plan and delegation
The next step is to do a thorough analysis of the project and the problems, the target areas, the areas requiring more efficiency, etc. This is usually followed by a thorough plan formulated by a Director or Senior Manager of Deloitte. The plan is then passed on to the Associates and Analysts with their designated tasks for the project with deliverables to be achieved and deadlines to be met.
The Organizational Hierarchy at Deloitte
The hierarchy of Deloitte is quite simple with titles and levels. In an ascending order, it is given by:
Analyst (I-III)
Analyst IV / Associate Consultant
Consultant (I-II)
Consultant (III-IV) / Assistant Manager
Manager (I-II)
Senior Manager (I-II)
Director
Partner
To reach a position as a Manager or above, it is important to show your business potential to get clients for the firm. Therefore, it important for a person, aiming to reach that level, to have a good network and communications skills.
Work Ethics & Environment
As a Deloitte employee, you have to restructure your schedule according to your client's requirement especially if the client works at a different time zone (although it is extremely rare to be assigned a client with a huge time-zone difference). It is also important to realize that an employee essentially works at two firms, one being his/her employer, Deloitte, and the second being the Client's firm. Hence, it is important for an employee to not only work with the Client but constantly update his/her progress at Deloitte. The work has to be extremely presentable to the client because the data and numbers can become very complex and difficult for a client to understand during a presentation. Therefore, it becomes important to make sure that your work is presentable and readable. The work has to be very categorical and detailed.
The working environment is quite pleasant. There are multiple team-building events and activities with various offsites, conducted throughout the year to integrate the employees more. At the same time, your supervisors and co-workers are really helpful. Even though initially one can find the environment quite fast paced and overwhelming, one can get a hang after a short period of time.
Despite the tough schedule and huge amount of workload, it is actually quite rewarding because understanding different clients' businesses and operations make you more equipped and knowledgeable and thus adds value to your profile.
What is Robotics Process Automation (RPA)?
Robotics Process Automation (RPA) is the utilization of artificial intelligence (AI) to transform and digitize business processes. In this new era of AI, more and more organizations are on the process of completely digitizing and automating every department in their organization and RPA serves as a base for it essentially. RPA is a software which uses robots that can emulate the digital desktop work that people do. RPA is governed by business logic and structure inputs. But it does not mean that they are physical robots, they are just a digital software used to carry out functions which are monotonous, repetitive and one tone in nature. RPA can be utilized in a wide range of daily cases such as the "copy paste" activities, which can be automated using RPA for actions such as copying items from a mail to an Excel sheet, filling out forms, etc. It uses computer software robots called 'bots' to carry out these tasks. RPA eliminates more and more mundane admin work and handles it well and in full in compliance. This enables an organization to achieve greater efficiency by streamlining processes and improving accuracy. It also enables humans/employees to focus more on work that requires judgement, creativity, and interpersonal skills.
Robotic process automation uses a logit/probit regression as one of its bases to achieve its function of handling mundane and repetitive tasks. Logit/probit regression is a binary regression model in which the dependent variable (DV) takes the value of 0 or 1. In practice, it is used for answering tasks that have only two outputs: "yes" (1 in the model) or "no" (0). The diagram below explains how RPA functions and how it uses logit/probit in the process. The diagram shows how RPA assesses a mail and enters any relevant information in an Excel sheet and sends it to the employee related to it. The bot (robots called in RPA processes as already mentioned) reads an email sent to the employee, opens the Excel file attached to the email, and enters data from the Excel file into an Enterprise Resource Planning (ERP) platform. When this happens, the bot enters the information in the Excel file, then looks for any possibility of the matter being escalated or not (to be defined). If escalation is required, then the bot sends a notification to the employee for analysis which eventually ends the task. If escalation is not required, then the bot automatically ends the task.
Figure 1. RPA Working Process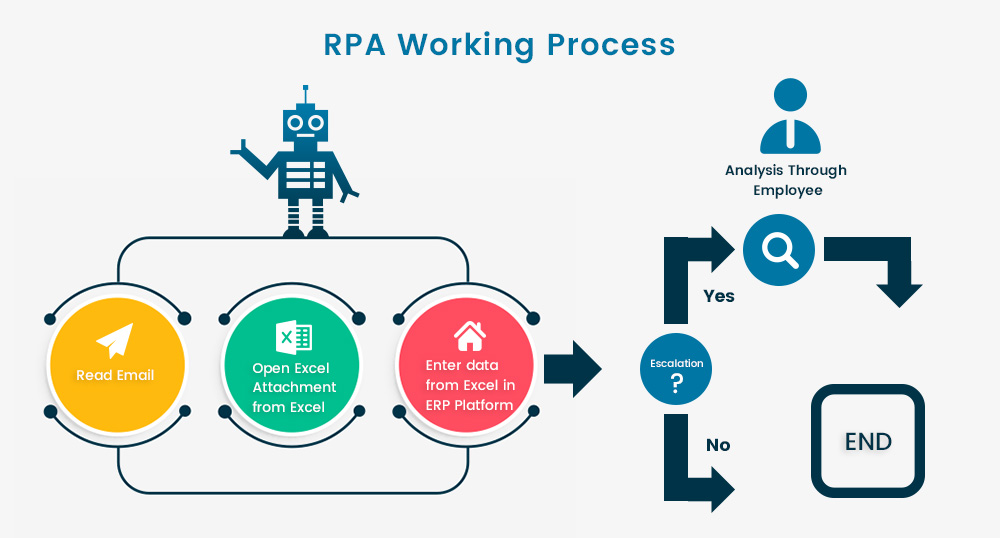 Source: Krify
My Experience at Deloitte
As a student pursuing his graduation in Economics, landing an internship at Deloitte was really surreal. I was always inclined towards consultancy and getting a first-hand experience really helped me be more certain about my hunch. I worked as a trainee in the Strategy & Operations Department in New Delhi. During my short six-week internship, I was primarily required to execute individual analysis of RPA and its applicability in Accounts Payable Processes. It was quite an interesting individual project to understand how the digitization of organizations are executed and the capacity to which processes and tasks can be automated using AI. The internship was an eye opener about the effort and handwork required to make as a consultant in one of the "Big Four" companies.
What I learnt during my internship
The three main things I learnt during my internship at Deloitte are as follows:
I gained information about the structure and working environment at Deloitte.
I learnt about digital transformation, particularly Robotics Process Automation.
I acquired an insight about the soft and hard skills required to make as an intern at Deloitte.
Related posts
Looking for an internship? Looking for a job? You may find useful information by reading other posts where students share their professional experience:
Looking for an internship or a job in finance, you may also be interested in the following resources to prepare your interviews:
About the author
The article was written in June 2021 by Anant JAIN (ESSEC Business School, Master in Management, 2019-2022).