Carbon Disclosure Rating
In this article, Anant JAIN (ESSEC Business School, Grande Ecole – Master in Management, 2019-2022) talks about Carbon Disclosure Rating.
Introduction
Carbon disclosure rating (CDR) is a medium to measure the environment sustainability of a company. It is calculated based on the voluntarily disclosure by a company itself. This rating is useful for an ethical investor who wish to incorporate environmental, social, and governance (ESG) factors into their investment decision making process. It focuses on the environmental factor.
Environmental, social, and governance (ESG) criteria constitute a framework that helps socially conscious investors to screen potential investments which incorporate their personal values/agendas. The ESG criteria screen companies based on sound environmental practices, healthy social responsibilities and moral governance initiatives into their corporate policies and daily operations.
The most commonly used carbon disclosure rating is administered by Carbon Disclosure Project (CDP), a United Kingdom based non-profit organization. It is comparable with Global Reporting Initiative (GRI) which is a Netherlands based organization. GRI works with businesses and organizations while CDP works with individual companies.
Framework of Carbon Disclosure Rating
Carbon Disclosure Rating is calculated by a general framework based on questionnaire generated by CDP. About 6,800 companies, which participated as of year 2020, usually submit responses to a series of industry specific questions depending on the industry of a specific company. The responses are then evaluated, analyzed, and graded. They are finally made accessible to institutional investors and other interested parties as well.
The grading separate companies based on their comprehension and application of climate-related changes. The grading mention below is stated from CDP.
Figure 1. Carbon Disclosure Project (CDP) Scoring Board.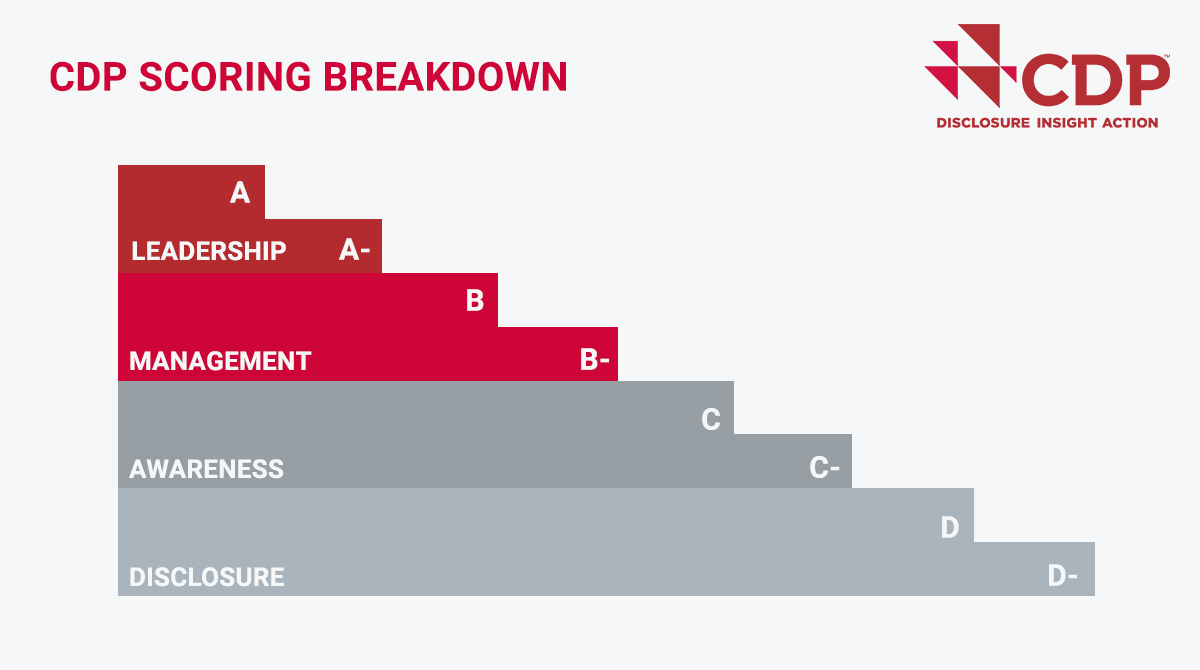 Source: Carbon Disclosure Project (CDP) .
A and A- | Leadership level
B and B- | Management level
C and C- | Awareness level
D and D- | Disclosure level
F | Failure to provide sufficient information to be evaluated
CDP then publishes a list of most favorable companies that were graded at "Leadership Level A and A-". In the year 2020, 313 companies were features on the list. Majority of those companies were large multinational corporations who are a leader in their specific industry. It included many prominent companies, such as Ford Motor Company, Apple, Bank of America, Johnson & Johnson, and Walmart.
Benefits of CDR
There is a constant increasing demand for environmental disclosure due to rise in ethical investing. As a result, there are numerous tangible benefits gained by a company when it discloses the requested informed asked by the CDP. They are as follows:
Improve and protect a company's reputation as it builds confidence via transparency and concern for environment
Helps gain a competitive edge while performing on the stock market
More preparedness for mandatory environmental reporting regulations
Discover new opportunities and mitigate potential risks by identifying emerging environmental risks and opportunities which might have been overlooked otherwise
Assessing and tracking progress in comparison to the competition in the same industry
Criticism
The biggest criticism of carbon disclosure rating is that the score does not reflect an honest depiction of the actions taken by a company to alleviate its impact on climate change or reduce its carbon footprint. It may simply reflect a that a company didn't disclose information with CDP. For instance, Amazon in the year 2020 was given a score "F" by CDP because it did not respond to CDP's request for information.
Therefore, an "F" score may simply mean that a company failed to provide enough information to receive an evaluation. It does not necessarily mean that company's inability to reduce its carbon footprint. As a result, CDP's rating is termed to be inconclusive since many companies do not provide information to CDP on thier actions to reduce their carbon footprint and actions to limit their impact on climate change.
Useful resources
Related posts on the SimTrade blog
About the author
The article was written in October 2021 by Anant JAIN (ESSEC Business School, Grande Ecole – Master in Management, 2019-2022).